Type and power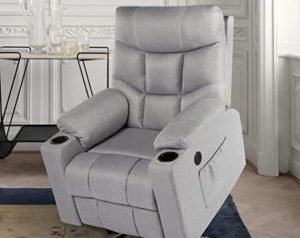 One of the best power features of this chair is the Silent Lift Motor. Every time you lift the chair, you won't make a sound. Its silent operation makes it stand out ahead above shoulders (plus, if you hate chairs that make too much noise, this one's for you).
The motor powers the entire chair and can recline up to 140 degrees, giving you the best in relaxation. You'll kick back, relax, and enjoy while you are reading, doing crossword puzzles, or even taking an afternoon nap. Meanwhile, you'll be able to get one of the best massages possible.
At the side of the chair is a USB port where you can be able to charge your phones, tablets, and other devices that you use regularly. Why should you have to get up to find the nearest outlet so you can charge your devices? If you have a USB port and a device, you're good to go.
The USB port can only handle low power devices. So, it's limited to smartphones, tablets, small laptops, and other devices that can be easily charged with a simple USB cable. You can play games, talk to family on the phone (or via Facetime if you are into that), read the news, and so much more.
Let's not forget the main star of this awesome chair: the power lift feature. You can lift the chair and change it in plenty of positions. This will take the pressure off most of your body so you can get the best pain relief you need. It's the perfect chair if you are someone who is older and is dealing with chronic pain and discomfort
If you are someone with mobility issues, you might find it a lot easier to get out of this chair because of the angled lift feature. Never again will you have to struggle to get out of the chair. Just press the button, and you'll be able to easily get up with little to no assistance.
With so many adjustments and customizable positions, you might find one that you'll enjoy. Just choose the best adjustment that you are comfortable with, and you can sit down, relax, and let the pain melt away with the best-heated massage you've ever received.
Materials used and color options
The recliner is made from microfiber fabric. It is also available in four different colors: Blue, beige gray, gray, and fabric brown. The material is non-toxic, and it follows the environmental regulations in accordance with the State of California's environmental laws. The materials included in the recliner are environmentally friendly and will not be harmful to the environment in the event when the time comes to dispose of the chair.
While you may not be someone who is environmentally conscious, rest assured that when the time comes to throw this chair away after so many years of use, you won't have to worry about inadvertently harming the environment.
Microfiber has been all the rage these days. And it's not just for cleaning anymore. But if you want to keep your chair clean every single time, this microfiber fabric is easy to maintain.
You can clean it up if it's a bit dirty without having to ruin the fabric. Unlike some fabrics where you need to follow special cleaning instructions. Plus, maintenance is not as chaotic as some pieces of furniture in your home.
Footrest
This recliner has a footrest, which you can automatically deploy with the help of power reclining. It extends out with the chair and gives your feet and legs the relaxation you need. If you are dealing with foot pain on a regular basis, you can be able to take the pressure off your feet. Just kick back, relax, and enjoy.
Dimensions and weight
The following dimensions are based on measurements when the recliner is opened or closed. When closed, the chair is measured in the following dimensions: 33 inches (length), 41 inches (height), 28.3 inches (width). When opened, the measurements are 59 inches (length), 28.3 inches (width), and 41 inches (height).
The weight of the recliner is 125 pounds. While it's not the heaviest recliner, it does require two people to carry it around. So, if you plan on moving, you probably don't want to carry this yourself (especially if you are someone dealing with mobility issues, to begin with).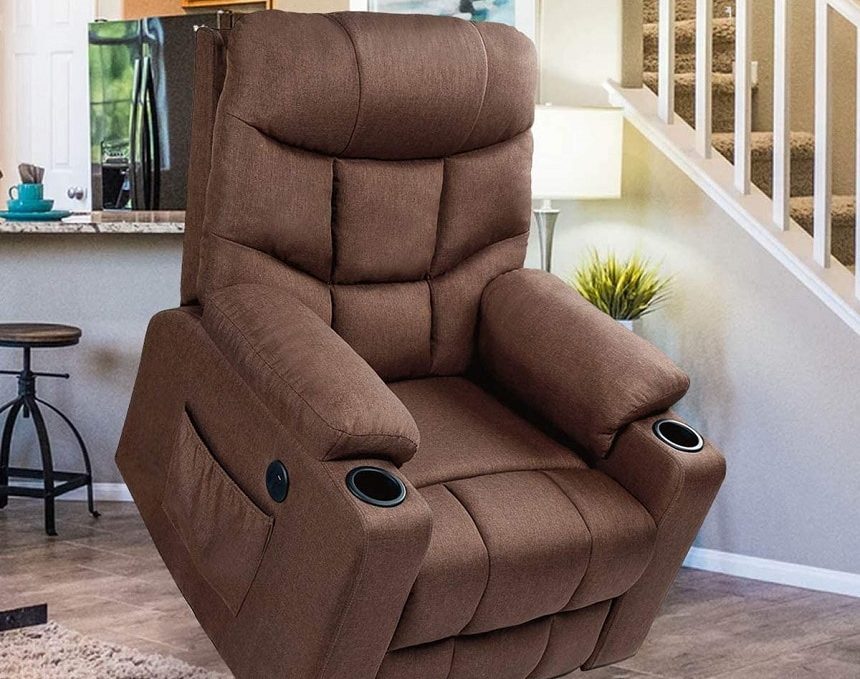 Weight capacity
The weight capacity of the Esright Power Lift Recliner is 330 pounds. So whether you are someone who is a bit on the heavy side, you can still be able to sit in this chair and feel very comfortable. After all, the chair is built tough and is very durable. If you were looking for a chair and worried about whether or not it can handle your weight, no need to worry. This is one of the best chairs that you can get.
Durability
The recliner is made from microfiber fabric and has an alloy steel frame that is solid and can handle almost anyone sitting down. The fabric is not easy to rip, nor does it fade even after a short period of time. Since it's made from microfiber, it's not like any other fabric.
In the event of a spill, it's quick to absorb and won't stay damp longer than most fabrics. It's also perfect if you want a fabric that will keep everything nice and clean. This is the same microfiber used for cleaning cloths, and they do a good job keeping everything spotless.
If you are looking for a chair that can last you years or even a decade, there is a good chance you might enjoy this chair
All wood boards that are part of the structure of the chair are formaldehyde-free, a chemical known for being harmful to the environment. It's further proof that wood can last a long time, even without the harmful preservatives added to it.
Extra features
Of course, we can't seem to include any of the extra features in this review. When you get the Esright Power Lift Chair, you'll be able to enjoy some of the following benefits:
Side pockets
You have the option of purchasing an Esright Power Lift recliner with side pockets on each side. This is perfect when you want to store away a ton of small items. These include but are not limited to remote controls, magazines, newspapers, phones, tablets, and so much more.
Heated vibration massage
The regular massage feature…it's good. But you ain't seen nothing yet. How about a heated vibration massage? Even better. You'll feel plenty of warmth and vibration running through your neck, back, and even your knees. If you are looking for the ultimate in comfort, this could be the power lift recliner for you.
Overstuffed padding
If you are looking for a soft chair that feels like you are sitting on a cloud, then you might enjoy the overstuffed padding. It's made from environmentally friendly materials that won't be harmful when the time comes to dispose of it. No more dealing with materials that contain harmful chemicals or any materials that can be hazardous to your health after long-term exposure.
Dual cup holders
You get not one, but two cup holders. You can fit a cup, a can, or even a bottle and keep it alongside you. Plus, it gives your cups a lot more stability, so you don't have to keep it in your hands all the time. If you have trouble handling cups, this feature will help you out immensely, so you don't have to accidentally spill a drink.
Thick back and armrests
If you are looking for one of the best parts of the chair that were made for relaxation, then check out the back and armrests made with thick padding. It will help you relax so you can be able to enjoy sitting in comfort (and it can help get rid of some of the pain you might be dealing with).
Price tag
The price tag varies between the different colors and materials. Here are the prices based on the following colors you choose:
Fabric brown (with side pockets/USB): $389.98
Fabric blue: $394.99
Fabric gray: $389.99
Fabric brown (with cup holders): $404.98
Fabric beige gray: $409.98